September 5, 2022
 Is the Modified Frailty Index useful in patients with metastatic lung cancer?
Frailty involves the impairment of physiologic reserve and ability to maintain homeostasis following a stressor. It is a poor prognostic factor in adults with cancer, but the method used to define frailty has been a moving target.1 In research settings, different definitions used include the phenotypic Fried criteria, a deficit accumulation model defined by a frailty index, or deficits on a comprehensive geriatric assessment.2,3,4 Each of these definitions has integration challenges in a clinical setting. The Modified Frailty Index (mFI) is a brief tool that correlates with post-operative morbidity and mortality in surgical populations.5,6,7
The importance of frailty in patients with metastatic non-small cell lung cancer (NSCLC) receiving chemotherapy remains unclear and the correlation of the mFI with outcomes in this population was unknown. As part of a project exploring patterns of treatment in patients with metastatic NSCLC, we were able assess the mFI through Dr. Mathur's research at the University of Manitoba BSc Med program and funding from the CancerCare Manitoba Foundation.
We investigated the association of mFI with chemotherapy-related toxicity, progression-free survival (PFS), and overall survival (OS) using a retrospective cohort study design. The mFI has been assessed using prospective surgical databases, but we measured it through retrospective chart review of all 426 patients diagnosed from 2011 to 2016 with metastatic NSCLC who received chemotherapy in the Canadian province of Manitoba. Our retrospective design required merging the typical mFI categories for stroke and transient ischemic attack with or without residual deficits since that information was rarely included in the chart (Table 1). We separated patients into fit (mFI=0), pre-frail (mFI=1-2), and frail (mFI=3+) groups.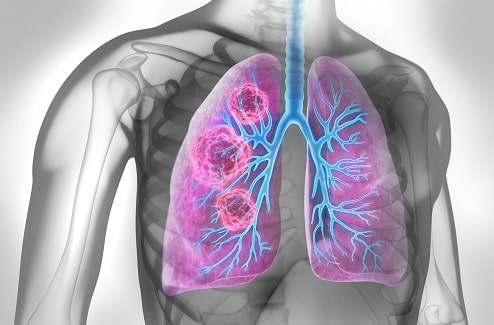 We found that higher mFI was associated with older age, male sex, smoking status, and pack-years of smoking. Higher mFI was also associated with less use of whole brain radiotherapy and use of less aggressive chemotherapy (carboplatin vs cisplatin, more empiric dose reduction). None of OS at 1, 2, and 5-year landmarks, median OS, and PFS differed by mFI category. While the risk of some toxicities differed (thromboses statistically), there were no differences in overall rates of chemotherapy toxicity or hospitalization. When adjusting for other factors in a multivariable analysis, we found that performance status, sex, number of metastatic sites, driver mutations, and chemotherapy completion were all associated with survival, but not mFI. It is possible that the mFI is not helpful in metastatic NSCLC because it is overwhelmed by disease aggressiveness, the retrospective design of the study impacting assignment of mFI, or the clinical assessment prior to prescribing chemotherapy already accounting for the components of frailty in the mFI.
Future research in patients receiving systemic therapy would likely best use other tools to define frailty or compare multiple tools to determine which provide the best prognostic or predictive abilities. We believe that frailty is an important consideration in patients with lung cancer, but the mFI appears to be a poor measure for such patients receiving chemotherapy.
References
Petit-Monéger A, Rainfray M, Soubeyran P, Bellera CA, Mathoulin-Pélissier S. Detection of frailty in elderly cancer patients: improvement of the G8 screening test. J Geriatr Oncol. 2016;7(2):99–107.
Fried LP, Tangen CM, Walston J, et al. Frailty in Older Adults: Evidence for a Phenotype. J Gerontol A Biol Sci Med Sci. 2001;56(3):M146-M156.
Searle SD, Mitniski A, Gahbauer EA, et al. A standard procedure for creating a frailty index. BMC Geriatrics. 2008;8:24.
Brechemier D, Sourdet S, Girard P, et al. Use of comprehensive geriatric assessment (CGA) to define frailty in geriatric oncology: Searching for the best threshold. Cross-sectional study of 418 old patients with cancer evaluated in the Geriatric Frailty Clinic (G.F.C.) of Toulouse (France). J Geriatr Oncol. 2019;10(6):944-950.
Tsiouris A, Hammoud ZT, Velanovich V, Hodari A, Borgi J, Rubinfeld I. A modified frailty index to assess morbidity and mortality after lobectomy. J Surg Res. 2013;183(1):40–6.
Khamis A,Warner C, Park J, et al.Modified frailty index predicts early outcomes after colorectal surgery: an ACS-NSQIP study. Colorectal Dis. 2019;21(10):1192–205.
Hirpara DH, Kidane B, Pierre A, et al. Frailty assessment prior to thoracic surgery for lung or esophageal cancer: a feasibility study. Support Care Cancer. 2019;27(4):1535–40.
Validation of a proxy-reported SARC-F questionnaire for current and retrospective screening of sarcopenia-related functional impairments. J Cachexia Sarcopenia Muscle, 2022. 13(1): p. 264-275.