Immunotherapy toxicity and steroids use in older cancer patients
The SIOG NAH Interest Group organised with the Young SIOG Interest Group a joint webinar on Immunotherapy toxicity and steroids use in older cancer patients on Tuesday, June 22.
Evidence on the role of immunotherapy with checkpoint inhibitors in older adults with cancer by Dr. Fabio Gomes
The aging microbiome and response to immunotherapy: Considerations for the treatment of older adults with cancer by Dr. Dan Spakowicz
Corticosteroid use in older cancer patients by Mr. Darren Walsh
Considerations for the older cancer patients on corticosteroids therapy by Ms. Michelle Hannan
Fabio Gomes is a consultant medical oncologist working at The Christie Hospital in Manchester (UK). He works within the lung cancer team and the patient-centred research team. He is also the director of clinical outcomes at his cancer centre and he has a special interest in the care of older cancer patients, hence being the vice-chair of Young SIOG.
Dan Spakowicz, PhD, MS; is an Assistant Professor in the Division of Medical Oncology and Department of Biomedical Informatics at the Ohio State University Comprehensive Cancer Center. Dr. Spakowicz studies how to use the microbiome as a biomarker of cancer treatment responses and as a therapeutic target to improve treatment outcomes in older adults. His group supports microbiome collection in clinical trials at the OSUCCC and across the United States, conducts trials that seek to modify the microbiome through dietary or other interventions, and tests for causality using preclinical models.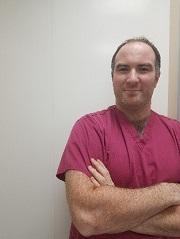 Darren Walsh has been working as a Senior Pharmacist in Cancer Services in University Hospital Waterford across both Oncology and Haematology. His research interests include geriatric oncology, chemotherapy induced nausea and vomiting and polypharmacy in cancer patients.
Michelle Hannan (RGN RNP MSc), is an Advanced Nurse Practitioner in Geriatric Oncology, coordinating the Geriatric Assessment and Liaison clinic within the medical oncology department at University Hospital Waterford, Ireland. Michelle has a specialist interest in the unmet needs of older adults with cancer and developing educational opportunities for oncology nurses.