(April 5, 1930. Milan, Italy – October 25, 2003. Providence, USA)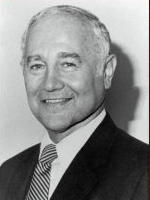 Paul Calabresi was born in Milan, Italy. His father, a cardiologist, and his mother, a literature professor, were anti-Fascists, and the family left Italy for the United States in 1939.
A 1951 graduate of Yale College, Dr. Calabresi earned his M.D. from the Yale School of Medicine in 1955 and joined the Yale faculty after serving his internship and residency on the Harvard Medical Services of the Boston City Hospital. He taught at Yale until 1968, when he moved to Brown University as professor of medical science and as physician-in-chief of Roger Williams General Hospital. He was the founding director of the Brown University Cancer Center and became chair of Brown's Department of Medicine in 1974. In 1991, while continuing his teaching at Brown, he transferred to Rhode Island Hospital.
An internationally recognized oncologist and an authority on the pharmacology of anti-cancer agents, Dr. Calabresi was one of the pioneers in the pharmacological treatment of cancer and developed approaches that led to the cure of such diseases as Hodgkin's lymphoma.
Widely regarded as a "statesman of oncology," Dr. Calabresi was at the forefront of oncology therapy and also worked with the American Board of Internal Medicine, helped to carve out oncology as an important subspecialty and was instrumental in developing training programs throughout the United States.
He received honorary degrees in the United States and abroad and was also awarded the Oscar B. Hunter Memorial Award in Therapeutics from the American Society of Clinical Pharmacology and Therapeutics and the St. George Medal for distinguished volunteer service from the American Cancer Society. He was President of the American Society of Clinical Oncologists and was a member and leader of more than a dozen other professional societies. He served on nearly two dozen prominent committees and study sections at the NCI and was on the Editorial Boards of thirteen journals including the New England Journal of Medicine. Paul authored or edited more than 220 manuscripts and books on the pharmacology of anti-neoplastic agents and the management of cancer.
Later in Paul's life, and once again being ahead of the curve, Paul developed an interest in geriatric oncology and served as the founding president of the International Society of Geriatric Oncology in 2000. He promoted geriatric oncology and as a scholar whose mastery included medicine, epidemiology and understanding of the human condition, he studied and publicized the effects of cancer on the elderly.
Dr. Paul Calabresi died on October 25, 2003 in Providence, Rhode Island. Ironically, he succumbed to cancer, a disease which he had been studying and helping to conquer during his entire professional life.